August 26, 2022
IMPROS vs. JOES is back

#FinalFridays every month! #ptbo
Unique Access Workshops
L

earn

O

n

L

ine

We want 
YOU

to join the fun!
Students enrolled in Keep Me Up Improv workshops can join us on stage!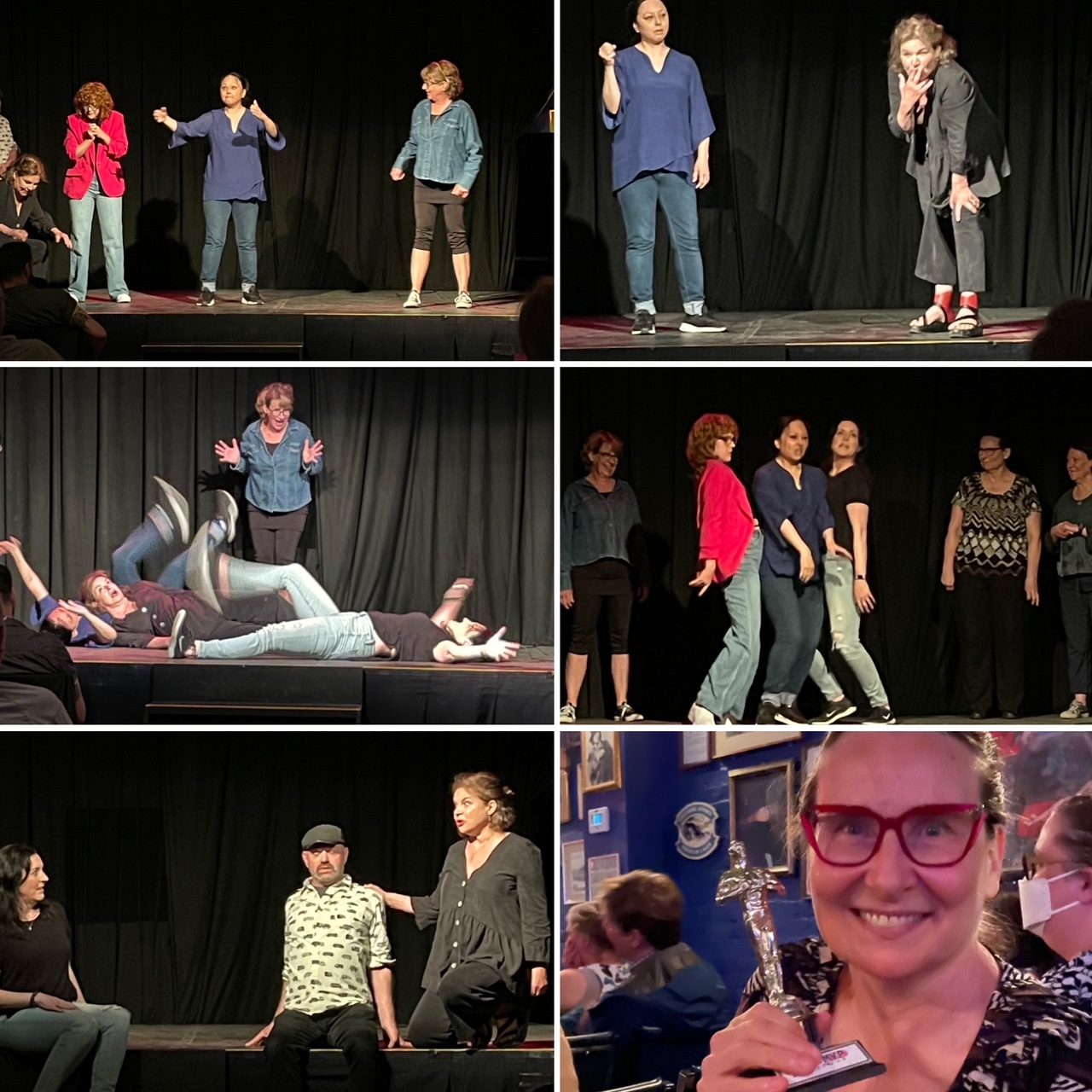 Come laugh out loud at our live Impros vs. Joes show on the final Friday of every month at the Gordon Best Theatre in Peterboro, ON.

Start Me Up Series
Start Me Up Improv

Come experience the fun of improvising. This workshop is for first timers and those wanting to refresh the fundamentals of improv. It's all about jumping in and having fun. Over eight weeks you'll explore the basics of improvisation through games in our safe, no pressure, supportive klusterfork ZOOM-room. It will leave you feeling energized and confident and give you an improv family for life.
Keep Me Up Series
Keep Me Up Improv
An improv workout with professional feedback with a small, dedicated group of players in this eight-week session. For those with improv experience, it's the ideal workout space to strengthen scene work, long form, listening skills and confidence. Tons of tips and techniques for upping your game. We all know that the more you play, the stronger you get, so sign up and come out for this unique, safe and fun experience!
Learning improv skills is fun, easy and can be done well online from the comfort of your own home.

Why people love LOL Workshops!
Intimate classes
(12 participants max.)
Live and Interactive
(not recorded or packaged for masses)
Students engage with and get feedback from instructors and special guests.
For students aged 18+
We bring
• Unique access to improv and stand-up comedians, actors, singers, voice and monologue coaches, writers, directors and casting agents
• Courses designed for all skill levels
• A safe, intimate space to learn from encouraging and supportive instructors delivered online through Zoom video conferencing
Our instructors bring
• 10,000plus hours of professional industry experience and exceptional teaching skills
• Practical, applicable techniques and sometimes homework between classes
• A supportive, welcoming and encouraging learning environment
You get UNIQUE ACCESS to the industry's best talent sharing their wealth of skills and experience. 
Beginner, intermediate and professional level courses available.

Upcoming UNIQUE ACCESS workshops

klusterfork 

L

earn

O

n

L

ine Workshops
Unique Access to PROS at the top of their game.
Learn, practise, play. Repeat.
What do I need to LOL?
You need a strong Internet connection and a device with working microphone and camera. You want a quiet place without interruptions. You don't want to be near blenders and chainsaws. Nor do you want to wake sleeping babies with your uncontrollable laughter.
How many people can join on one screen?
Two people can share a device if they have both enrolled and will get equal playing time. No more than two per screen please.
What if I've paid but can't make a class or my Internet is down?
Since each class happens only once, sadly, we can't make do-overs happen. Lock it in your calendar, check your tech status early and come ready to play!
How does a newbie prepare for improv?
Same way we all do, just show up, bring your best self and be in the moment. Some instructors encourage people being on their feet but otherwise, whatever is comfortable for you is best. Even the pros are a bit nervous before performing – use it as fuel to energize you! We create a safe place for everyone to feel comfortable. Since students mostly playing games in pairs of two or three, there's plenty of time to watch, listen and learn. After all, we're here to have fun.
klusterfork supports and encourages diversity. Bring your best self and you're already a perfect fit.

SHAWN WRIGHT, with no formal training in acting or singing, has played leading roles in musicals for over 30 years across North America (original Los Angeles cast MAMMA MIA / original Toronto cast, JERSEY BOYS / original Broadway workshop cast RAGTIME) including 15 seasons at Stratford and Shaw Festivals. Awards include Dora, Harold, Guthrie, Newton and My Entertainment Awards plus three nominations for Broadway World Awards. He teaches post-secondary musical theatre performance programs at Canadian colleges and provides audition coaching on Zoom.

AVERY SALTZMAN is the Co-Artistic Director of Toronto's Harold Green Jewish Theatre Company, the largest not-for-profit professional theatre company in Canada that devotes itself to telling the Jewish story. As a performer for over 40 years, Avery has graced stages on Broadway and in London's West End, in countless regional theatres across the US, and most theatres across Canada.

JESSE COLLIN is a 20+ year professional actor with notable credits including the Oscar-winning film The Revenant, and the Golden Globe-winning series Fargo, and the Primetime Emmy-nominated show Hell on Wheels. Through his company, The Craft Self Tape Studio, Jesse provides his expertise and insight to hundreds of actors as well as providing coaching and reading for thousands of their auditions. www.torontoselftape.com

LINDA KASH is a familiar face to Canadians as the Kraft Philadelphia Cream Cheese angel and has an extensive career of credits in television and film including Seinfeld, Everybody Loves Raymond, Waiting for Guffman, Best in Show and the Fargo series opposite Ewan McGregor.  She runs the Peterborough Academy of Performing Arts (PAPA), founded in 2007 with her late husband Paul O'Sullivan, teaching improv and acting skills to children, teens & adults.

ANTHONY Q. FARRELL has served as showrunner for THE PARKER ANDERSONS, AMELIA PARKER, and the BAFTA-winning CBBC series SECRET LIFE OF BOYS, which he also created. Currently Anthony is the Showrunner and Executive Producer of the sci-fi primetime comedy OVERLORD & THE UNDERWOODS. In the past, he has written for NBC's THE OFFICE, Canada's international hit LITTLE MOSQUE ON THE PRAIRIE, and Nickelodeon's THE THUNDERMANS. He is in active development on several other shows that he hopes to share in the near future. He lives in Toronto with his amazing family.

DON HORSBURGH is a musical director and composer with a 40-year career with major theatre companies in Canada as well as national touring companies in Canada and the US. Through 18 seasons at Canada's Stratford Festival, his musical direction and compositions provided soundtracks to numerous Shakespearean and contemporary productions. He has won numerous awards for Musical Direction, Outstanding Score and New Work and is a highly sought-after vocal instructor and private coach.

After an enjoyable yet not so successful music career in the 1900s, IAN BURNS now plays for fun and shares his experience with those wishing to discover and develop their playing relationship with the guitar. His background in classical, folk, jazz, and blues brings a unique perspective to learning the instrument.