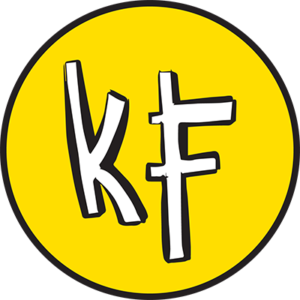 presents
LOL

Improv Workshops
L

earn

O

n

L

ine and get your laugh back on track.
We're coming to you with two levels of improv comedy classes!
MasterKlass Improv Intensive
3x weekly for 5 weeks to take your improv games to the next level.
Monday Night Improv Drop-in
One-hour weekly drop-in class. No experience necessary, we teach to all levels.
MasterKlass Improv Intensive
[Adults 18+]
One hour 3x week for 5 weeks / $339 (tax incl.)
10 participants max.
Take your improv game to the next level. Put yourself through comedy school in five weeks by learning from the best. It's a safe, friendly and seriously fun way to sharpen your chops.
This intensive course is led by the best improv comedians and instructors in the business.
One-hour classes are 7-8 p.m. EDT on Sundays, Tuesdays and Thursdays.
15 classes for $339.
That's a klusterfork of a deal!
You won't find an intensive improv workshop from such a talented pool of teachers for this price.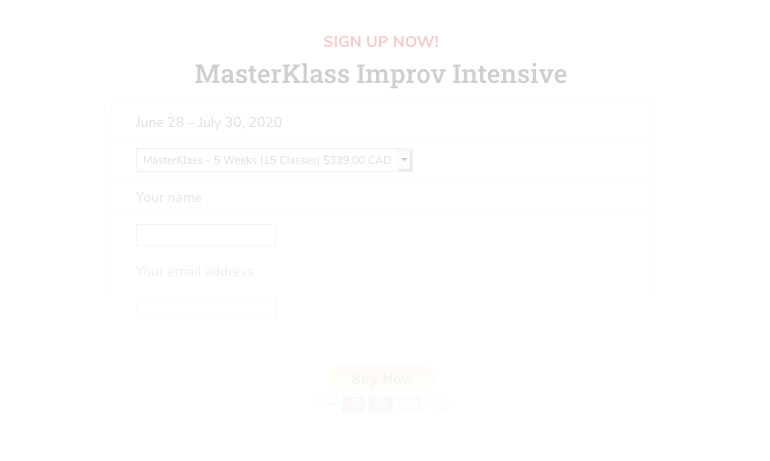 We're Sorry!
MasterKlass Improv Intensive is sold out and registration is closed.
Get klusterfork news…
to be the first to know when the next MasterKlass begins.
Sign up to hear about new classes, new teachers and more.
(You won't be pestered. We only deliver fresh news.)
All purchases are final. No changes or substitutions.
*Please note that the instructor line-up is subject to change.
These folks are hard working performers in film, television and theatre and scheduling conflicts may arise.
klusterfork supports and encourages diversity.
Improv is a team sport that wins when everyone gets to play. Bring your best self and you're already a perfect fit.
If you don't feel ready for the high dive… Just dip your toes in!
Join our Monday night drop-in improv classes.
LOL

Improv welcomes all levels.
Monday Night Improv Drop-in
[Adults 18+]
8-week session
No experience necessary
Single one-hour class/ $15 (tax incl.)
10 participants max.
Same-day registration cut-off time is 2 p.m. EDT
For beginners, dabblers or brusher-uppers, this class provides a friendly, welcoming and safe environment to learn or re-learn the foundations of improvisational comedy. Everyone can learn according to their level.
And if you simply want to shake off the cobwebs before diving into our Improv Intensive, this is the place. Visit as many drop-ins as you want. You'll know when you're ready for the next level. Led by our team of fabulously funny instructors including Linda Kash, your favourite cream cheese angel.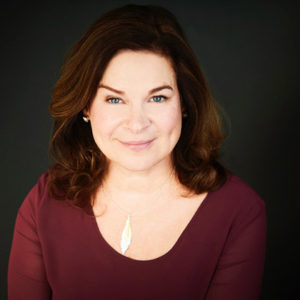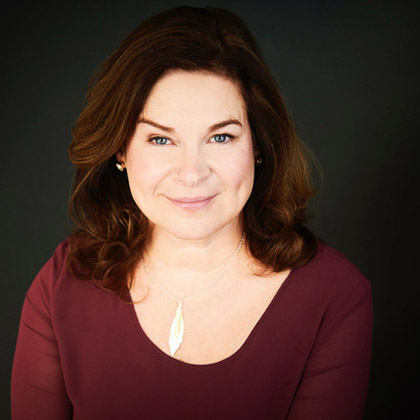 Linda Kash
(Click for Linda's bio)
Classes are Mondays 7-8 p.m. EDT
First session starts Monday, June 29, 2020
Class size is limited to 10 and will sell out quickly so sign up now.
Note: Same-day registration cut-off time is 2 p.m. EDT
SIGN UP NOW!
Monday Night Improv Drop-in
All purchases are final. No changes or substitutions.
klusterfork supports and encourages diversity.
Improv is a team sport that wins when everyone gets to play. Bring your best self and you're already a perfect fit.
klusterfork LearnOn

L

ine Workshops
LOL FAQs
What do I need to LOL?
You need a strong Internet connection and a device with working microphone and camera. You want a quiet place without interruptions. You don't want to be near blenders and chainsaws. Nor do you want to wake sleeping babies with your uncontrollable laughter.
How many people can join on one screen?
Two people can share a device if they have both enrolled and will get equal playing time. No more than two per screen please.
What if I've paid but can't make a class or my Internet is down?
Since each class happens only once, sadly, we can't make do-overs happen. Lock it in your calendar, check your tech status early and come ready to play!
How does a newbie prepare for improv?
Same way we all do, just show up, bring your best self and be in the moment. Some instructors encourage people being on their feet but otherwise, whatever is comfortable for you is best. Even the pros are a bit nervous before performing – use it as fuel to energize you! We create a safe place for everyone to feel comfortable. Since students mostly playing games in pairs of two or three, there's plenty of time to watch, listen and learn. After all, we're here to have fun.
ED SAHELY has been teaching Group Improv for Actors to the first-year theatre students at George Brown College for the last twenty years. He spent seven years performing and writing with The Second City and received a Dora Mavor Moore Award for work on the Toronto Mainstage. Ed is co-creator of the improv troupe Not To Be Repeated, which developed into a television series aired on CTV and the Comedy Channel. He has countless television and film credits in Canada and the US.
JAN CARUANA has taught improv classes across the country and has coached numerous teams. She is an award winning performer and writer. Some of her credits include Baroness Von Sketch, Kim's Convenience, Mean Girls and the YA juggernaut The Next Step. Last year, Jan directed the critically acclaimed sketch troupe Not Oasis in their Fringe Hit We've Come From Away.
HERBIE BARNES is best known for his role of Joseph in the film Dance Me Outside and the CBC series The Rez, but he has played many roles throughout his career both on stage and on film. Herbie has been teaching for over 30 years and spent his career developing a new way of storytelling for writers and performers. He has taught in inner city high schools, private schools, universities and theatre companies across Canada.
LISA MERCHANT has been studying, performing and teaching the art of improvisation for 26 years. She is a Professor of Improv at Humber College, a senior faculty member and corporate facilitator with Second City Training Centre and has been guest faculty with Osgood Hall Law School. She coached Canada's Olympic teams for the London 2012 Summer Games and Sochi 2014 Winter Games.
She has earned countless nomination and awards from The Canadian Comedy Awards including three times for Canada's Best Improviser.
ANDY MASSINGHAM has been an actor, teacher, director and playwright for over thirty years. His Dora award-winning wordless play Rough House toured Canada and the US. Andy conducts physical theatre workshops at Second City, Tarragon, Toronto Film School, University of Ottawa and Humber College. He has appeared at the Stratford Festival, N.A.C., Theatre New Brunswick, Banff Centre, Soulpepper and many others.
LINDA KASH is a familiar face to Canadians as the Kraft Philadelphia Cream Cheese angel and has an extensive career of credits in television and film including Seinfeld, Everybody Loves Raymond, Waiting for Guffman, Best in Show and the Fargo series opposite Ewan MacGregor.  She runs the Peterborough Academy of Performing Arts (PAPA), founded in 2007 with her late husband Paul O'Sullivan, teaching improv and acting skills to children, teens & adults. www.lindakash.ca